World School International Forum '99
Please click above to view a video

To view a video, you need the newest version of RealPlayer

Downloading RealPlayer

| Oct. 26 | Oct. 27 | Oct. 28 | Oct. 29 | Oct. 30 | Oct. 31 |
| Nov. 1 | Nov. 2 | Nov. 3 | Nov. 4 | Nov. 6 |
---
Oct. 26, 1999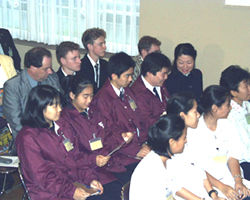 World School International Forum '99 had started at Katsuura International Training Center on October 26, 1999.
This year they have 22 schools from 19 countries and areas from all over the world including three new schools, which are Pretoria, Iasi and Montreal. The participants will discuss about the curricurum for 21st century.
1999年10月26日に世界教室インターナショナル・フォーラムが勝浦研修施設でスタートしました。
今年は、プレトリア、ヤシ、モントリオールからの3校の新規参加校を含め、世界19の国と地域から22校が参加しています。参加者達は21世紀のカリキュラムについて話し合うことになっています。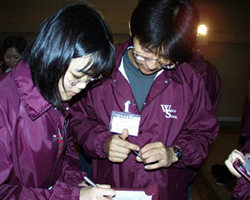 The participants had a good time each other sharing their own information, such as their names, the first impression about Japan and so on.
It halped them understand each other easily.
参加者達は、名前や日本の第一印象など、互いの情報交換をしながら楽しいひとときを過ごしました。
このおかげで、互いをよりよく理解することが出来ました。
---
- next -